STEM III –UAS as a STEM Outreach Learning Platform for K-12 Students and Educators (A29_A11L.UAS.53)
The Federal Aviation Administration (FAA) tasked six universities/schools to expand the number and types of Science, Technology, Engineering, and Math (STEM) Outreach approaches to the FAA that use Unmanned Aircraft Systems (UAS) as the central learning platform. This FAA grant was entitled: STEM Outreach – UAS as a STEM Outreach Learning Platform for Kindergarten to Twelfth Grade (K-12) Students and Educators (STEM III) and was issued on September 9, 2019, with a completion date of September 8, 2022, 36 months from date of issue. This effort was an evolution from the previous STEM I and II efforts. Within the framework of the FAA's UAS Center of Excellence (COE), there is a strong desire to incorporate STEM Outreach to students from groups who are under-represented in STEM fields. Inspiring the next generation toward technical careers, specifically in aviation related fields, is a challenge.
The six universities/schools included University of Alabama in Huntsville (UAH), the University of Alaska Fairbanks (UAF), the University of California Davis (UCD), the Ohio State University (OSU), Sinclair College (Sinclair), and New Mexico State University (NMSU). The thrusts were different for each of the six schools. The completed activities by the team fell into five basic categories: 1) Educator-based STEM outreach program; 2) Rural community education and outreach; 3) UAS centered summer camps; 4) After school programs; and 5) In school immersion programs. All programs leveraged "age appropriate" materials extracted from the Alliance for System Safety of UAS through Research Excellence (ASSURE) COE research results and efforts.
Efforts were offered at six specific diverse geographical locations where the targeted student communities are not similar and face unique educational conditions. The students who the teams interfaced with come from diverse urban areas, Alaskan Native, Native American, tribal communities, rural districts, intercity, farming communities, and more. Many were from underrepresented non-traditional STEM backgrounds, including socioeconomically disadvantaged students, women and minority students, and first-generation attending university students. Groups included elementary, middle and high school students as well as educators in STEM programs.
COVID-19 impacted all of the planned activities. Some events were modified, turned from in person to virtual, and others completely readjusted. Locations and number of allowable participants were based on federal, state, and local regulations /guidance at the time. This research team was resilient, adaptable, and creative in getting the good word out about UAS. Table 1 gives a summary of the outreach activities. The diversity of students, communities, and teachers reached was significant. The summary numbers show that almost 12,000 students were reached over the period of this grant. Over 650 teachers/educators were exposed to UAS, with many given the tools the take this back to their communities to expand the impact.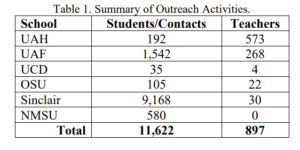 TEAM: NMSU OSU SCC UAH UAF UCD
FINAL REPORT |
---
POC:
Henry M. Cathey, Jr.
Aerospace Division Director | UAS Flight Test Site Director
Physical Science Laboratory
New Mexico State University
Email: HCathey@psl.nmsu.edu
Phone: 575.646.9474
---